Antidopamine Porn Blocker User Manual
Thank you for your purchase of the Antidopamine Porn Blocker!
Here is a set of tutorials on how to set up our service on all of the supported devices, including Windows 7 & 10, macOS, iOS (iPhone and iPad) and Android:
Contact us if you need any additional help.
List of Guides:
---
Antidopamine Porn Blocker Windows 7/8/10 Guide
Step 1: Download the Antidopamine VPN software for Windows: Download Antidopamine for Windows
Step 2: Run the installer and then open the AntiDopamine app.
Step 3: Fill in your username and password (found in your delivery email) as shown in this screenshot: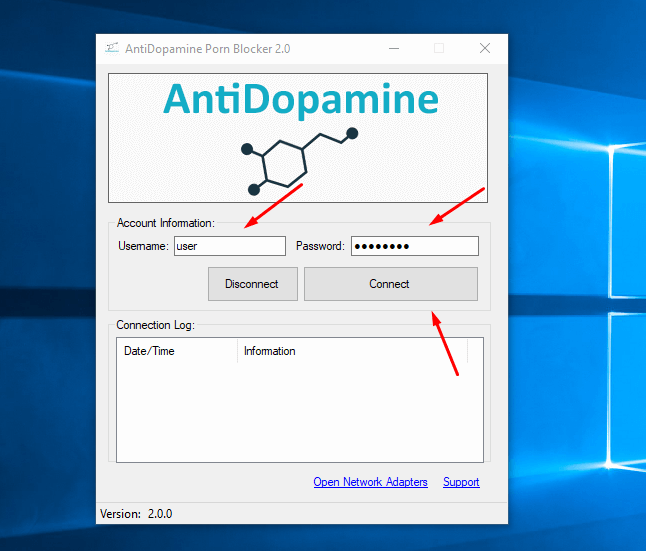 Step 4: Click the connect button and create & confirm your master password. The master password is used as a safety measure when you would like to disconnect your internet connection from the AntiDopamine porn filter: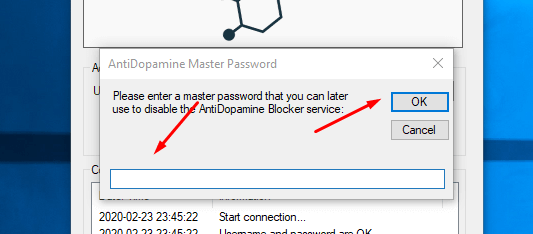 Step 5: The application will ask you which internet connections you would like to be filtered.  You can choose as many as you would like: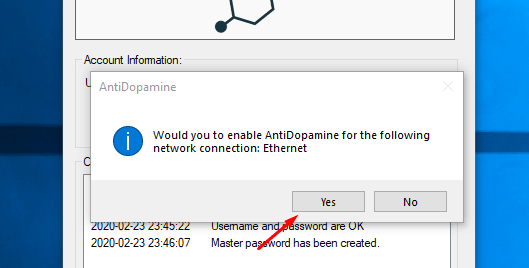 After clicking yes, that concludes the AntiDopamine setup process.
The content filter will automatically block all adult materials on your computer. This process is automatic, and continues even after restarting your PC. There is no need to re-connect after a system restart.
---
Antidopamine Porn Blocker macOS Guide
Step 1: Download the AntiDopamine macOS app: Download AntiDopamine for macOS
Important Note: Remember to right-click on the AntiDopamine app and installer and select the "Open" option in order to start the app. Left-clicking may show a permission denied error message.
You may need to do this action twice in order to give startup permissions to our app. After the app has the proper permissions, you'll be able to use it normally.
Watch the macOS video tutorial in case you need help setting up the app:
---
Antidopamine Porn Blocker iOS (iPhone & iPad) Guide
Here's how to set your iOS device to use the AntiDopamine content filtering network:
Step 1: Open Settings
Step 2: Go to Wifi
Step 3: Tap on your currently connected WiFi network
Step 4: Tap on the "Configure DNS" button
Step 5: Remove the currently listed DNS servers and then tap on the "Add Server" option
Step 6: Enter 104.244.72.75 as the server and click "Save"
---
Antidopamine Porn Blocker Android Guide
Step 1: Download the Antidopamine app for Android: Download Antidopamine for Android
Step 2: Run the downloaded .apk file in order to install the app.
Step 3 (Optional): If you're having an issue starting the installer, go to Settings > Security and enable the checkbox for installing apps from "unknown sources."
Step 4: Run the AntiDopamine Android app
Step 5: Log in with the username and password from your order email
Step 6: Create a master password and login to the service.
You will need the master password in order to log out of the service. This is an additional stage done to prevent or reduce the frequency of relapses.
---
Ubuntu (Linux) Guide
Note: Prior to using our VPN, you need to install the L2TP dependencies for Ubuntu (or your Linux distro of choice) in the terminal, via these commands:
sudo apt-get update
sudo apt-get install network-manager-l2tp
sudo apt-get install network-manager-l2tp-gnome
Video instructions:
---
Note: If your device requires a DNS setting for the always-on VPN operation, just enter 104.244.72.75 as the DNS server.
Feel free to contact us at any time if you need any additional help setting up the Antidopamine porn blocker.