Top 10 Free Chrome, FireFox and Safari Website Blockers (2020 Edition)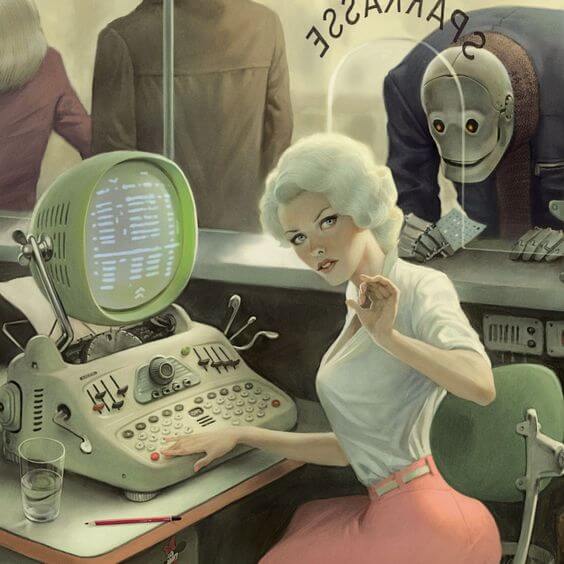 According to recent studies, up to a staggering 40 percent of internet users are using various types of ad blockers.
A report from Statista shows a figure of around 27%, which is still a large number: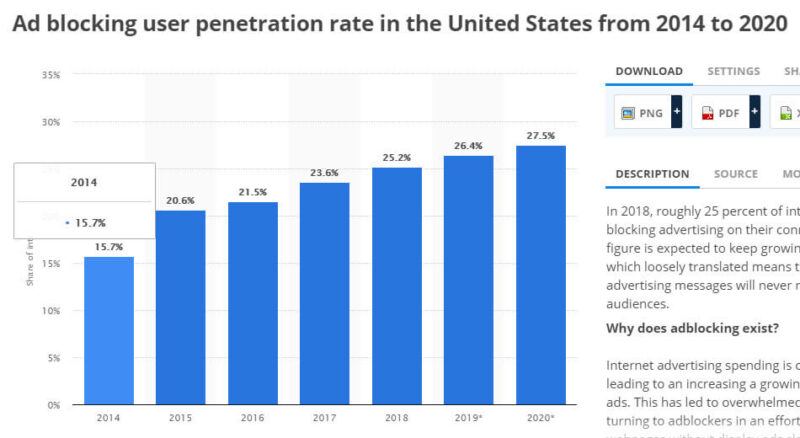 While ads are not the same thing as website blocking, it is interesting to note because it seems that many people are trying to create a custom tailored experience of the internet.
The problem is that blocking ads is not enough. If you want to be productive and be able to focus, you need a complete website blocking solution.
Luckily for us, there are dozens of different browser-based website blockers that can save you time and money. This review is going to cover all the currently available products.
Top 5 Free Chrome Website Blockers
By far the most used Chrome website blocker is the Block Site extension.

As of 2019, the Block Site extension has a 4.5 rating from a total of 22,930 users.
Of course, most people don't bother to leave reviews about the products they are using, because those ~22,000 reviews were left from a grand total of 1,853,078 users. That's close to the population of some countries in Europe.
Apart from being available for Google Chrome, Block Site is also available as an extension for Android and FireFox. iOS support is missing.
The main benefits as listed by the developers are increased focus and productivity. The extension allows you to use block lists which you can use to add whole domains or specific web pages to the URL blocker. Another novel feature is the ability to set a redirect which brings you to an alternative website than the one you intended to visit.
Imagine that – you are furiously trying to open Facebook, only to be redirected to a programming course on Udemy.
Career efficiency at its finest.
Anyway, additional features offered by the app is a work timer, which can also be configured to block distracting websites only at specific times. The app touts an ability to block adult sites as well, although a dedicated adult blocking solutions might be more useful for that scenario.
In comparison to the browser plugin, the Android Block Site app is a stand-alone application, meaning it can run outside the web browser. Running outside the browser means the Block Site url filter can be toggled to block URLs in Facebook, Instagram, Snapchat and all the other possibly naughty apps on your phone.
Check out the official Block Site page at https://blocksite.co/.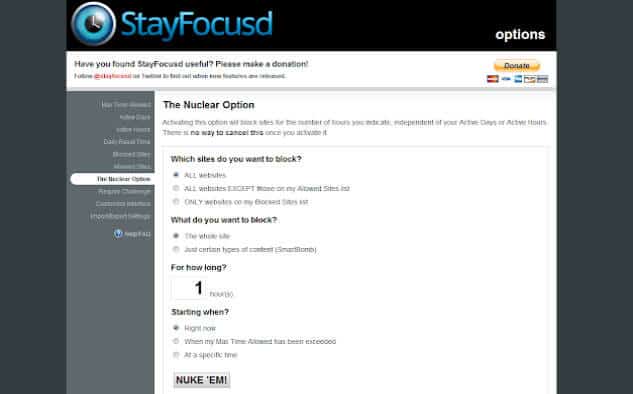 Next on our list is Block Site's main competitor – StayFocusd.
The first interesting fact that can be noticed on first glance is that StayFocusd is used by less than half as many users as Block Site – 746,861 vs. 1,853,078.
However, it seems StayFocusd users are a more fanatical bunch, as they have left 7,095 review, which is almost four times as many. The average rating is the same as Block Site's – a stable 4.5.
A 4.5 rating indicates a well-performing app, that does not do anything bad, doesn't crash, and it doesn' offer anything specifically awe-inspiring. It should do what it says on the tin.
Before installing any browser-based extension, it's good to check the date of the last update, as browsers are notorious for being malware-prone. It takes one outdated plugin to risk losing your login credentials.
The good news is that both StayFocusd and Block Site have both been updated in the past two months, meaning development is active.
I might be slightly geeky about this, but what I really like about browser plugins (and apps in general) is a small footprint. A small installation size.
You see, despite having GBs of RAM and 8+ CPU threads, lag and stutter can easily ruin your browsing experience. And on that regard, I have to commend the StayFocusd plugin, as it's file size is 335 KiB. Compare that to the file size of Block Site – 9.63 Mib.
There is no hard data at the moment, but a difference of almost 30 times surely has an effect on your browsing experience.
Get StayFocusd from the Google Chrome Web Store.
Now that we've gone through the two main products in the free website blocking market, we can begin listing the underdogs.
And what better underdog than an extension that leads to a dysfunctional Chinese blog.
Seriously, I'm trying to advertise these guys, and this is the material they give me to work with:
On a serious note, after I made that screenshot I run Google Translate and came to the conclusion that the Chinese website is the main blog of the author behind the WebSite Blocker (Beta) extension.
It seems he/she likes writing about all the various technical challenges they encounter on a daily basis.
Still, that doesn't explain the outdated and lack of trust-inspiring design of the plugin GUI. Here is a screenshot from their main page on the Chrome Web Store:
Dark-mode UI as a default view is a big no-no, especially in situations where your main market is English-speaking users but your main web presence is a Chinese programming blog.
You have to know how to hook people in, how to build trust, and then sell.
Anyway, apart from that, there are positive things to be said about the plugin. I'm not always negative.
For example, the Website Blocker (Beta) extension is under active development, with an update being committed in the past three months. The build version is currently sitting at 0.3.3, meaning the author wants to indicate that the app is not yet a final release, which is why the user experience (UX) might be lacking.
The plugin has a total of 1,151 reviews, giving it an average of 4 stars.
There are currently 163,174 users that haven't heard about Block Site and StayFocusd.
Get Website Blocker Beta from the Chrome Web Store.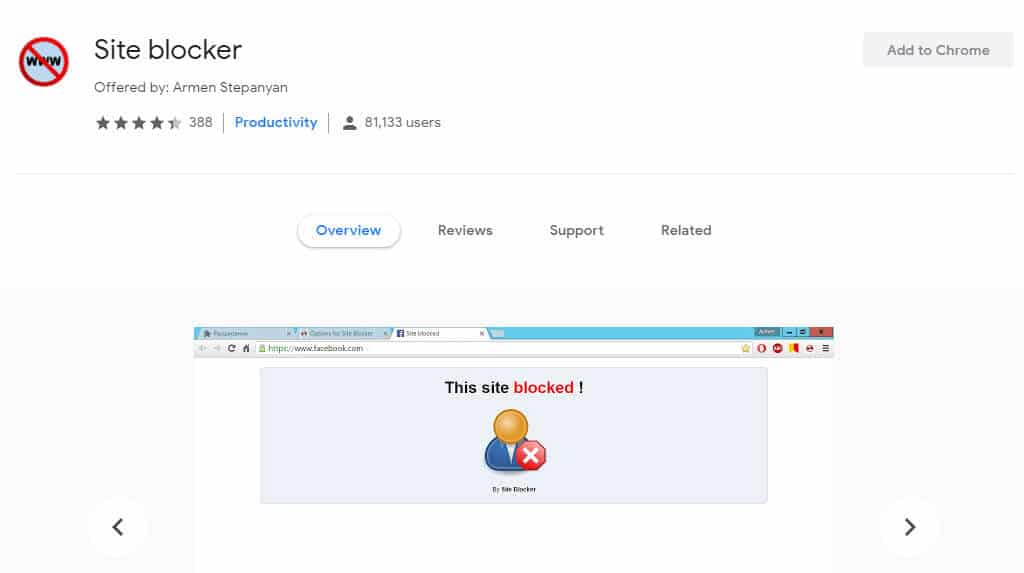 Site Blocker is a sharp and to the point type of plugin.
There is no fluff, marketing or bloat when it comes to Site Blocker. The author, a guy named Armen Stepanyan made a nimble extension (it uses only 321 KiB) and the last update was done less than 30 days ago – sooner than any of the other plugins in this guide.
The plugin is used by 81,133 users, who gave it a 4.1 rating (out of a total of 388 reviews). While that is less than average in this market segment, there might be a story behind that. This does seem to be a single-developer plugin after all.
The plugin's website is operational, which is trust-inspiring.
The list of features as given by the author are:
Password protection
Ability to block subdomains
Ability to block by entered keys (that sounds dangerous)
Ability to block by javascript regex (that's for advanced users)
And the ability to redirect blocked sites to an alternative URL. This feature is found in some of the competitor plugins.
Overall, Site Blocker was the biggest surprise in this review, and is the plugin I would recommend people to try out if they want to venture away from the two main market leaders.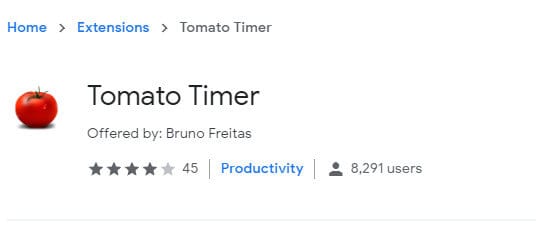 While browsing around the Chrome Web Store, I stumbled upon the Tomato Timer extension.
"Tomato" in this case is used as a synonym for the "Pomodoro Timer," which is a technique for splitting workloads into smaller chunks, so that you don't lose focus.
It is a well-known fact that splitting activities to smaller, achievable goals is the key to beating procrastination, and a Pomodoro Timer is a good way to doing that.
If you feel like you might be able to improve your discipline and concentration without needing a fully fledged website and URL blocker, then the Tomato Timer Chrome plugin might be just the thing you are looking for.
Top Free FireFox Website Blockers

The most popular free FireFox website blocker is actually the same one as it is for Chrome – it's the BlockSite extension.
Notably, the FireFox edition of this extension is written as "BlockSite," instead of being written as "Block Site" as it is on the Chrome Web Store. Perhaps the authors couldn't settle on how they wanted to stylize their product naming case.
I have the same problem with AntiDopamine, which is sometimes also written as "Antidopamine."
Anyway, the other interesting bit of information is that the FireFox counterpart has a lot fewer users than the Chrome edition. A few years ago, FireFox was a solid competitor to Chrome, but these days Chrome is the market leader. That means that FireFox-based extensions are less used than Chrome extensions, which can be a bad trend for the future.
Fewer users = less development effort.
Currently, BlockSite has 83,527 active users, who have left a total of 1,500 reviews, with an average rating of 3.5 stars. That's a whole star less than the Chrome edition. Might be a possible indicator of buggy releases.
The feature is set is the same as the Chrome counterpart, meaning you can create custom block lists, block adult domains, block by keywords and block for specific times.
The "adult blocker" is advertised as a "keep your kids safe" feature, although I think parents should invest in dedicated software for a feature like that. You don't want to rely on a free browsing extension to protect your children.

If you are looking for a FireFox website blocking alternative, Distract Me Not comes as a potential competitor to BlockSite.
Personally, I'm the same way – I feel it is sometimes our duty as users to pick the underdog in order to help bring more competition to the market.
I also like the logo – it features a zapping magnet, which I guess brings good things to you? Perhaps the magnet illustrates the potential success users can attract once they block distracting content.
Anyway, Distract Me Not is used by 489 users and has 5 reviews – all of them giving the plugin 5 stars.
That makes downloading this plugin a risky ordeal. While it is fun and hipster-y to try using a FireFox extension used by less than 500 people, that can bring potential security risks, so choose wisely.
Your best bet in this situation would be to first use Distract Me Not on a portable FireFox installation where you do not store any important credentials. If things work out for a few weeks, then you can think about trying it on your main installation.
Get Distract Me Not.
Top Free Safari Website Blockers

The Safari and macOS markets are slightly limited when compared to the mainstream Chrome, Firefox and Windows platforms.
In fact, the situation is so bad, that there isn't a single free Safari extension that can block websites. There is one extension called "1Blocker" that claims to be a content blocker, but given that the app cost $9.99, it isn't included in this review, nor has its functionality been verified.
That means that in order to block websites on macOS and the Safari browser, you need to install a dedicated app that can add that functionality to all the browsers on your system.
From browsing forums and online communities, the SelfControl app was recommended numerous times. Both because it's free, and because it's open-source, meaning the code behind the program has been verified and is known to not contain any troubling bits.
The GitHub repository lists several different contributors, with the last commit being done towards the end of 2018, which means that the app is not under active development.
Other than that, SelfControl has been translated into 12 different languages, so that's an added plus for non-English users.
Get SelfControl for macOS and Safari.
Is Cold Turkey a macOS or Windows-based app?
Looking at the Cold Turkey website, you may have a difficult time finding out whether the app can block content on the macOS platform.
The answer is that yes, Cold Turkey can block websites on macOS and Safari, and it even includes a free package: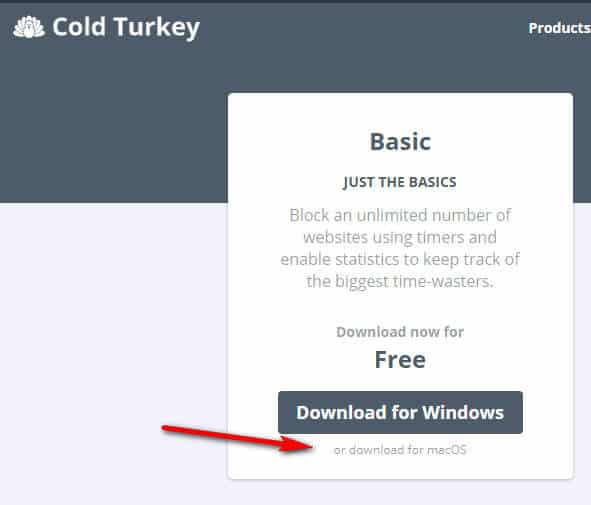 You just have to spot the light gray download label underneath the main Windows-download button.
After you download Cold Turkey, then you can set up all the various filters you want to use to block distracting websites.
You can also set time limits and even check out statistics regarding your usage patterns. The stats are pretty neat, check them out: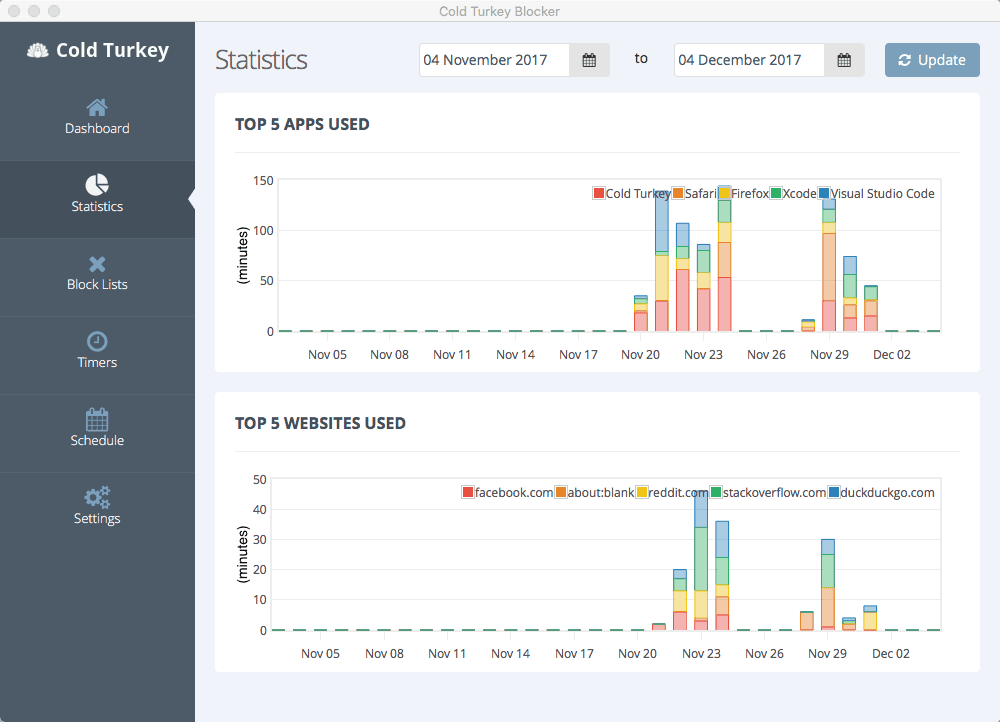 Cold Turkey works with all the supported browsers on the macOS platform (including Safari, Chrome, and FireFox) and also has a different build that works on Windows.
If this got your interest, get Cold Turkey.